2023-11-24T23:00:00Z → 2023-11-25T23:00:00Z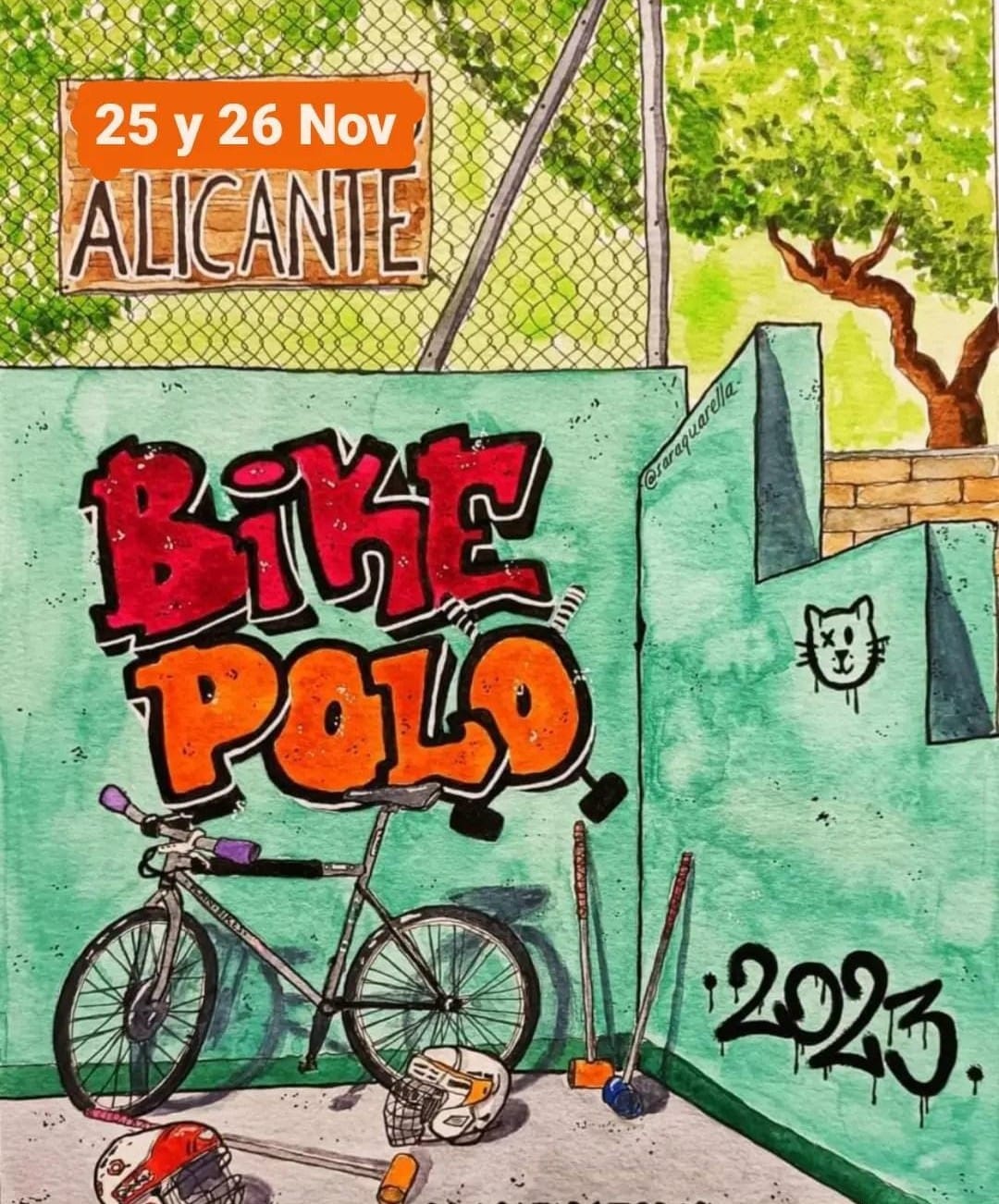 Hi everyone!
From Alicante bike polo we are pleased to invite you to the tournament that will take place this November 25 and 26 at the Monte Tossal Sports Center.
The modality will be 3vs3 - Pre-registrations are now open, they will be in order of arrival and by team.
All teams are welcome!
Tournament details:
Dates: November 25 and 26, 2023
Hours: Saturday 8:00 - 19:00/20:00. Sunday: 8:00 - 19:00
Location: Monte Tossal Sports Center, Alicante
Number of teams: 10
Team format: 3 vs 3
Tournament format: TBA
Registration until Friday, November 17, 2023. One TBA per team is allowed in the registration phase
Registration link: Torneo bike polo Alicante
Rate: €45 per team
Schedule:
Friday: pick ups from 6 p.m.
Saturday: tournament. At the end of the brotherhood dinner
Sunday: tournament. award
We are waiting to play some nice games, get to know each other more, expand our community, share and above all enjoy this beautiful sport that brings us together.
Come see, cheer, have a great time!
We are waiting!
Hola a todxs!
Desde Alicante bicipolo tenemos el agrado de invitarlxs al torneo que se llevará a cabo este 25 y 26 de noviembre en el Polideportivo Monte Tossal.
La modalidad será 3vs3 - Las preinscripciones ya están abiertas, serán por orden de llegada y por equipxs.
Todx equipx es bienvenidx!
Detalles del torneo:
Fechas: 25 y 26 de noviembre 2023
Horarios: Sábado 8:00 - 19:00/20:00. Domingo: 8:00 - 19:00
Lugar: Polideportivo Monte Tossal, Alicante
Número de equipos: 10
Formato de equipos: 3 vs 3
Formato del torneo: TBA
Registro hasta viernes 17 de noviembre 2023. Se permite un TBA por equipo en fase de registro
Enlace de registro: Torneo bike polo Alicante
Tarifa: €45 por equipx
Horario:
Viernes: pick ups desde las 18 hs
Sábado: torneo. Al finalizar cena de hermandad
Domingo: torneo. premiacion
Link en historias y perfil del instagram…
Lxs esperamos para jugar unos lindos politos, conocernos mas, expandir nuestra comunidad, compartir y por sobre todo disfrutar de este bellísimo deporte que nos convoca.
Ven a ver, animar, pasarlo bonito!
Lxs esperamos!