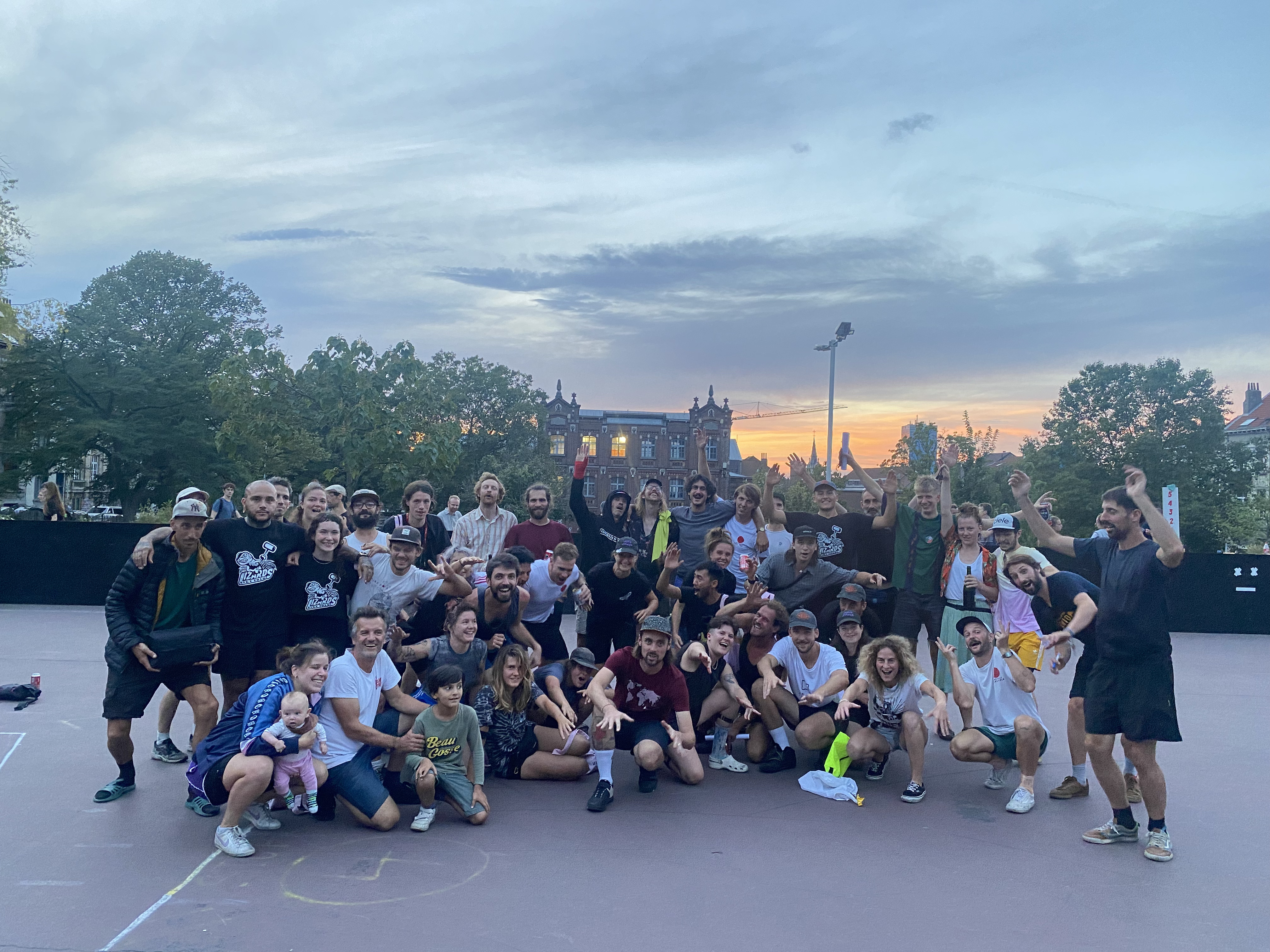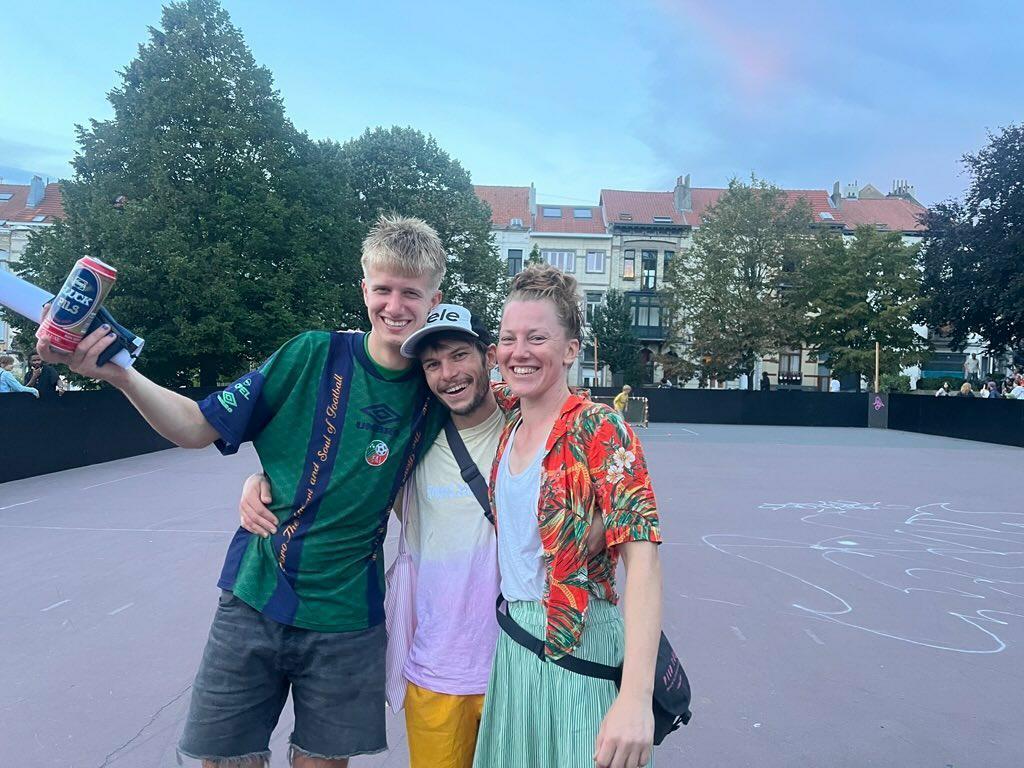 No Winners photo🥺
Full Local Team (Baptiste, Bulle, Vincent) wins in Brussels
The team around Euro third Vincent won the mixed tournament in the Belgian capital at the weekend.
A total of 16 teams with players from 5 countries took part.
On Saturday, the tournament started a little late, which meant that only 4 Swiss Rounds were played. After 4 games, Lizards (Levin, Lisa, Morgan) were in first place, closely followed by Vincent, Bulle and Baptiste. In third place was Senior Coconut (Julius, Eliska, Martin).
On Sunday there was a double elimination with all 16 teams. After a few rounds, only 3 teams remained and the finals were on.
In the Winners Bracket Final, Lizards (Levin, Lisa, Morgan) played against Full Local Team (Baptiste, Bulle, Vincent). After the team around Rising Star Lisa had not lost a game before, this was to change quickly. Through good passing and fast counter-attacks, the Full Local Team scored 6 goals and won 6:0.
In the Losers Bracket Final, Rugrats (Brice, Jojo, Tijs) and Senior Coconut faced each other. As in the Winners Bracket Final, the final score was 6-0. Previously, the team had already won twice against Rugrats and repeatedly showed a fantastic game. The team around Eliska thus secured a place on the podium.
Then the entry into the Grand Final was played out. Senior Coconut and Lizards, who did not meet in the preliminary round, now had to play each other. After a few minutes, it was 2:0 for Lizards due to two big shots. Brilliant passing by Julius and Martin led to the equaliser. Then a battle ensued in which a few more goals were scored. In the end it was 4:3 for Lizards.
Despite the defeat, Martin, Eliska and Julius secured third place in this high level tournament.
Around 7pm, many people gathered around the court and the final was about to start.
Lizards and Full Local Team played the most successful polo up to that point and then had to play one last game for the title.
Lizards clearly dominated the first few minutes and had numerous chances. Then Baptiste scored the first goals and the game took a similar course to the Winners Bracket Final. Lizards often played too offensively and were punished by numerous counters.
After 15 minutes of play, the score was 6-2 in favour of the Local Team.
Vincent won the Grand Royal for the third time after 2016 and 2018 and said: "Imbvery happy to represent BP Brussels here at home".
---
Full Local Team (Baptiste, Bulle, Vincent) gewinnt in Brüssel
Das Team um Euro dritten Vincent gewann am Wochenende das mixed Turnier in der Belgischen Landeshauptstadt.
Insgesamt spielten 16 Teams mit Spielenden aus 5 Ländern.
Am Samstag ging es mit einer kleinen Verzögerung erst etwas später los, was darin resultierte das nur 4 Swiss Rounds gespielt wurden. Nach 4 Spielen waren Lizards(Levin, Lisa, Morgan) auf Platz 1, dicht gefolgt von Vincent, Bulle und Baptiste. Auf dem dritten Platz befand sich Senior Coconut(Julius, Eliska, Martin).
Am Sonntag gab es dann eine double elimination mit allen Teams. Nach einigen Runden waren nur noch 3 Teams verblieben und die Endspiele standen an.
Im Winners Bracket Final spielten Lizards(Levin, Lisa, Morgan) gegen Full Local Team (Baptiste, Bulle, Vincent). Nachdem das Team um Rising Star Lisa zuvor noch kein Spiel verloren hatte, sollte sich dies schnell ändern. Durch gutes Passspiel und schnelle Konter erzielte das Full Local Team 6 Tore und gewann schlussendlich mit 6:0
Im Losers Bracket Final standen sich Rugrats(Brice, Jojo, Tijs) und Senior Coconut gegenüber. Der Vorrunden zweite hatte klar die Oberhand und wie im Winners Bracket Final stand am Ende ein 6:0 auf dem Scoreboard. Zuvor konnte das Team schon zweimal gegen Rugrats gewinnen und zeigte wiederholt ein phantastisches Spiel. Das Team um Eliska sicherte sich somit schonmal einen Podiumsplatz.
Dann wurde der Einzug ins Grand Final ausgespielt. Senior Coconut und Lizards, die in der Vorrunde nicht aufeinander trafen, mussten jetzt gegeneinander antreten. Nach wenigen Minuten stand es aufgrund von zwei Bigshots 2:0 für Lizards. Durch brillantes Passspiel von Julius und Martin kam es zum Ausgleich. Dann folgte ein Schlagabtausch in dem noch einige Tore fielen. Schlussendlich stand es 4:3 für Lizards.
Martin, Eliska und Julius sicherten sich trotz der Niederlage den dritten Platz bei diesem gut besetzten Turnier.
Gegen Uhr versammelten sich dann viele Menschen um den Court und das Finale stand in den Startlöchern.
Lizards und Full Local Team spielten bis dahin das erfolgreichste Polo und mussten dann ein letztes Spiel um den Titel antreten.
Die ersten Minuten dominierten Lizards deutlich und hatten zahlreiche Chancen. Dann fielen die ersten Tore von Baptiste und das Spiel nahm einen ähnlichen Lauf wie das Winners Bracket Final. Lizards spielten oft zu offensiv und wurden durch zahlreiche Konter bestraft.
Nach 15 Minuten Spielzeit stand es 6:2 für das Local Team.
Nach 2016nund 2018 konnte Vincent das Grand Royal zum dritten mal gewinnen und sagte: " Ich bin sehr froh BP Brüssel hier Zuhause vertreten zu können"