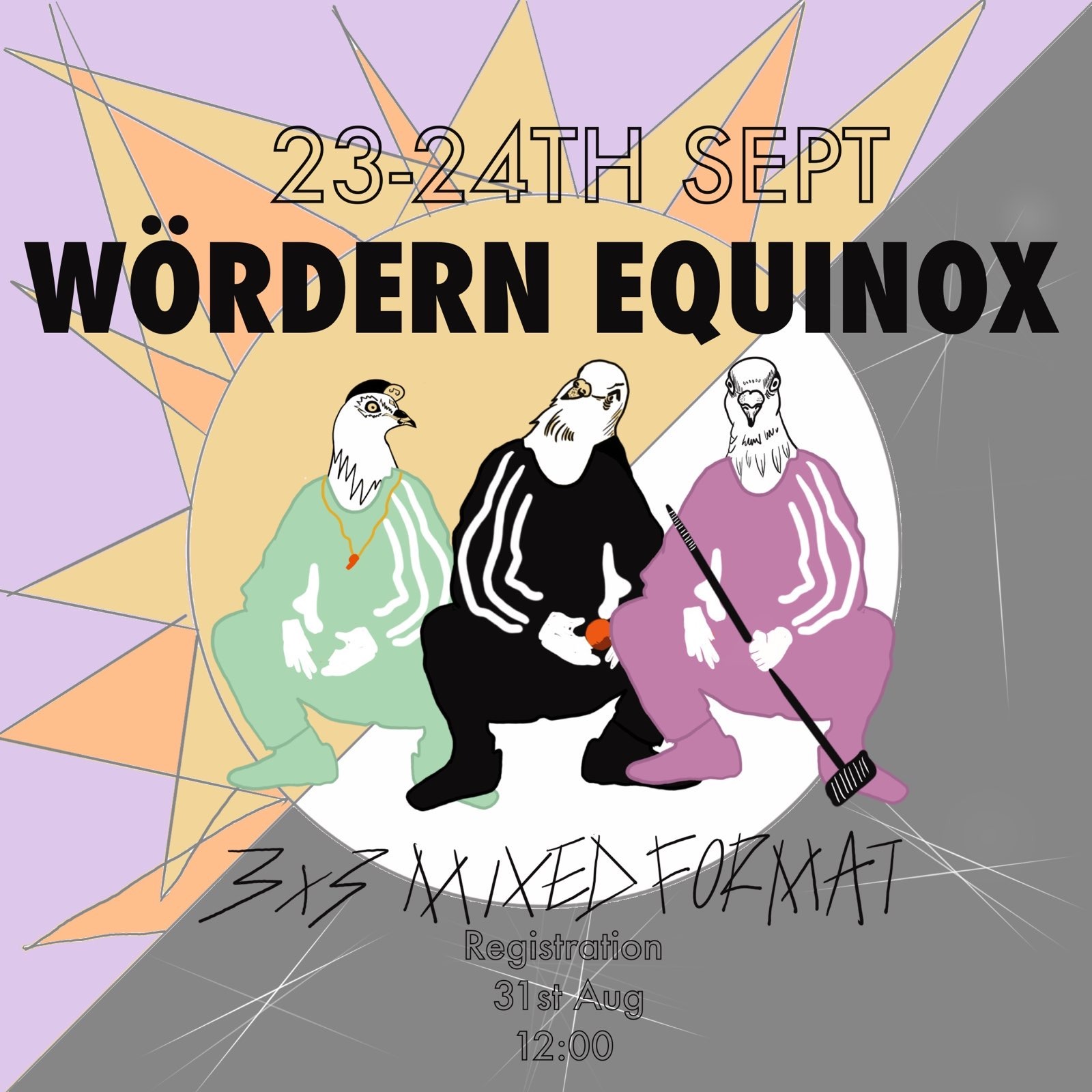 HI everyone,
We know this is coming as a rather last minute summer tournament deal. Nevertheless we want to invite you for a great weekend of polo in our lovely court and grounds in Wördern, Vienna.
Bike Polo Vienna would be happy to see you at our mandatory mixed 3x3 tournament from the 23rd till 24th of September 2023.
We have a beautiful court with a great smooth surface, and a fantastic camping area, plus its all close the danube. For those brave enough a swim is on offer. The court has lights until 22:00, so we can continue with pickups till after sunset.
23rd september is also the Autumn equinox, An equinox occurs when the position of the Sun is exactly over the Equator. When this happens, the hours of daylight and the hours of darkness are about equal almost everywhere on Earth. With this scientific inspiration, we have named this tournament Wördern Equinox (you see we are smart people over here)
Registration will be first come first served basis with a maximum of 16 teams. 5 spots are reserved for the very big BPV club (minimum of two BPV club members on the team)
What: Wördern Equinox
When: 23rd till 24th September 2023 (camping and hang out the night before either in the local city court or in Wördern)
Where: Red Dragons Lair, Feldgasse 2, 3422 St. Andrä-Wördern
Number of teams: 16 max.
Teams format: 3 vs 3, mandatory Mixed teams
Tournament format: TBA
Registration slots: 5 BPV +11 first come first served . One TBA allowed per team in registration phase
Registration opening: ATTENTION CHANGE TO ORIGINAL REGISTRATION TIMING
20:00pm 31st August
Registration closing: The registration will come to a natural end when all slots have been filled
Registration fee: 75 per team
We are aiming to provide all three meals, camping area with showers is on site. Get in touch if you need a place to stay in the city the nights before or after the tournament (You can say iif you need somewhere in the city to stay on the google form registration)
See you soon
TEAM LIST
BPV spots
1.MA1312- Mischa-Vienna Emilio-Vienna Georg-Vienna
2.Andromeda- Tina G- Vienna Paul M-Vienna Felix M-Vienna
3.Tat's weh- Stefan-Wien Max-Wien Asia-Wien
4.Drop it like it's hot- Raphi-Vienna Schlotti-Wien Top-Milano
5. Auftreten- Frieda-Berlin Annick-Vienna Shaki-Vienna
THE REST
6.Velociraptors- Omayra-Vienna Maryse-Berlin Andi-Linz
7. Lidlize it- Ana-Vienna Pyetro-Milano big city Jonas- Graz the Village
8. hoferize ´em- Chris-Graz Max-Graz Flixi-Graz
9. Caramba- Nele-Leipzig Frax-Prague Jovina-Vienna
10. Leabuam- Lea- Graz Pauberin-Graz Zappa-Graz
11. Sekaná- Jonáš, Turnov/Prague Anežka, Turnov/Prague Tomáš, Prague
12. Golem-Jirka Pardubice Kyncl Pardubice Alča Prague
13. EliskaMateenLevin- Eliska- Prague Mateen-Vienna Levin-Halle
14. Northern Lights- Alison- Berlin Madej-Krakow Eva-Dresden
15. Or Nee- Hannes-Leipzig Maus-Vienna Izi-Leipzig
16. Cosmic Polo Harvest- Astrid-Vienna Jesse-London Kat Pierson-Birmingham
WAITING LIST
17. Micky Nimage- Robin-Dresden Anton-Leipzig TBA
18. Purple Haze- Top-Milano Gallo-Milano Livia-Milano
19… Br-No- Daniela. Brno Kamila-Brno Patrik-Brno
SATURDAY 23rd GROUPS : Everyone will be expected to help ref the group that you are not in, so please come to the court to help even if you are not playing.
MORNING 9:00am
Velociraptors (Andi, Maryse, Hansi)
Andromeda (Tina, Paul, Felix)
Or Nee (Hannes, Maus, TBA)
Golem (Jirka, Kyncl, Alca)
EliskaMateenLevin
Northern Lights (Alison, Madej, Eva)
Tat's weh (Stefan, Max, Asia)
Drop it like it's hot (Raphi, Schlotti, Top)
AFTERNOON GROUP 14:00pm
Lidlize it (Äna, Pyetro, Jonas)
Hoferize 'em (Chris, Max, Flixi)
Auftreten (Annick, Frieda, Johanna/Shaki)
MA1312 (Georg, Mischa, Emilio)
Caramba (Nele, Frax, Jovi)
Cosmic Polo Harvest (Astrid, Jesse, Kat)
Sekana (Jonas, Anezka, Tomas)
Leabuam (Lea, Pauberin, Zappa)