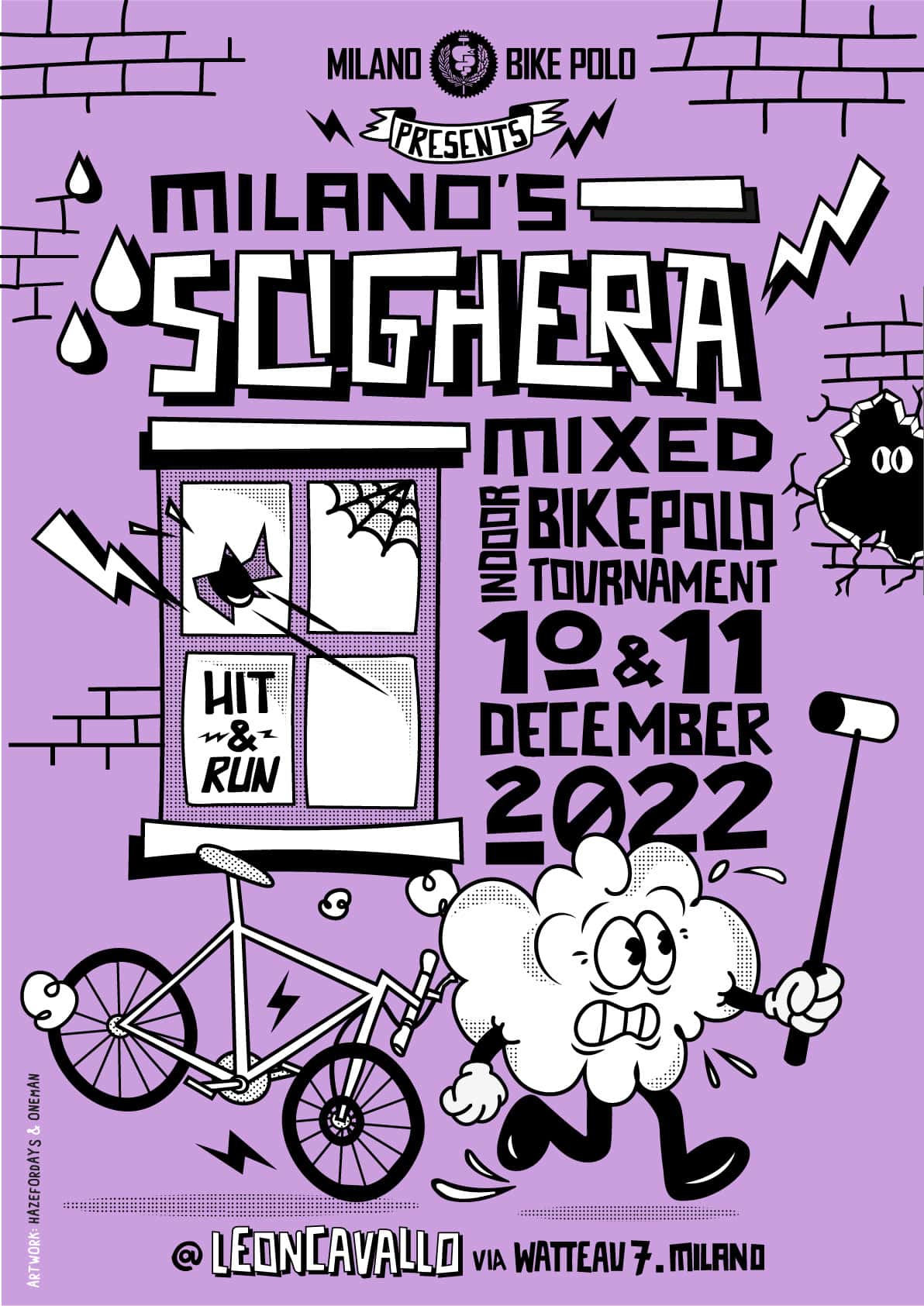 Ciao a tutti!
Milano Bike Polo is pleased to announce that the Milanese winter tournament will happen in December this year, in the mixed 3v3 format

For those who don't yet know what the hell means "Scighera", it's how here in Milano we refer to the typical winter fog in the Milanese dialect.
Although we have one court, we want to gather as many teams as possible and considering that our indoor court has lights, we can extend the games after sunset.
We usually reward faster team registration, but since we expect a high demand, we'll mix both "first come first served" and lottery, in case we exceed the maximum number of allowed teams.
Name: Milano's Scighera Mixed
Dates: 10–11 December 2022
Number of teams: 18 max.
Teams format: 3 vs 3, (mandatory) Mixed teams
Tournament format: 3 round-robin groups + 1 bottom round-robin group + top 16 double elimination
Registration slots: 4 MBP + 8 first come first served + 6 lottery
Registration opening: 12:00 (CEST) on Monday 19 September 2022
Registration closing: 24:00 (CEST) on Sunday 9 October 2022
Lottery (possibly via streaming): between Monday 10 and Tuesday 11 October 2022
Registration link: Scighera Mixed: registration
Registration fee: €60/Team
As usual, Leoncavallo SPA is very welcoming and they are pleased to host as many players as they can in their hospitality rooms, just above the court!
They host all of us for free, but we'll ask for a small amount of money per person/night to all those who want to sleep there, to help them to keep the squat alive.
Breakfast, fruits and snacks will be available in the players' area next to the court throughout the day and are included in the registration fee.
Also, Leoncavallo SPA has an open kitchen throughout our stay providing for all your lunches, dinners and of course drinks!
---
TEAM LIST
Goal Diggers — Top, Gallo (Milano), Omayra (Vienna)
Converted — Eva, Paolino, Ricky (Milano)
Polase — Gipsi, Nanni (Milano), Franzi (Dublin)
LA7 — Livia, Seghez, Andy (Milano)
Poloverse — Markus (Berlin), Claire (Munich), Pyetro (Milano)
Beijing Belly VS Crop Top — Tommy, Tia (Milano), Astrid (Vienna)
Caramba — Katy (Koln), Max (Prague), Greg (Zurich)
Latina Thunder — Victor (Pamplona), Johnny (Zaragoza), Mya (London)
Besonders — Frix (Hannover), Christoph (Halle), Gitti La Mar (Berlin)
Irish Coffee — Anne Vorain (Tours), Chloe Fay (Lyon), Kropa (Dublin)
Summer Camp — Victor (Bordeaux), Anna (Vienna), Pablo (Montpellier)
Dragon Bulle Z — Momo, Bouchard (Lyon), Bulle (Bruxelles)
Mongols United — Piks (Montpellier), Lisa (Berlin), Remy (Freiburg)
Vandals — Vincent, Fonzo (Lyon), Elodie (Strasbourg)
La mala ordina — Johanna, Conny, Georg (Vienna)
Golden Shiitake — Martina (Fano), Mariano, Pietro (Milano)
Lorem Ipsum — Clem (Bruxelles), Zita (Zürich), Chrigu (Bern)
Oh schnapps! — Jason (Montpelier), Jovina (Vienna), Max (Berlin)
Waiting list
Fortuna — Emmanuel (Caen), Florian (Brest), TBA
Manp's — Simone, Alessia (Pescara), Pedo (Fano)
Pizza Avvento — Johannes, Lette (Berlin), Kati (Colonia)
Melon and Lime — Rita, Clara, Indi (Bern)
---
THANKS TO