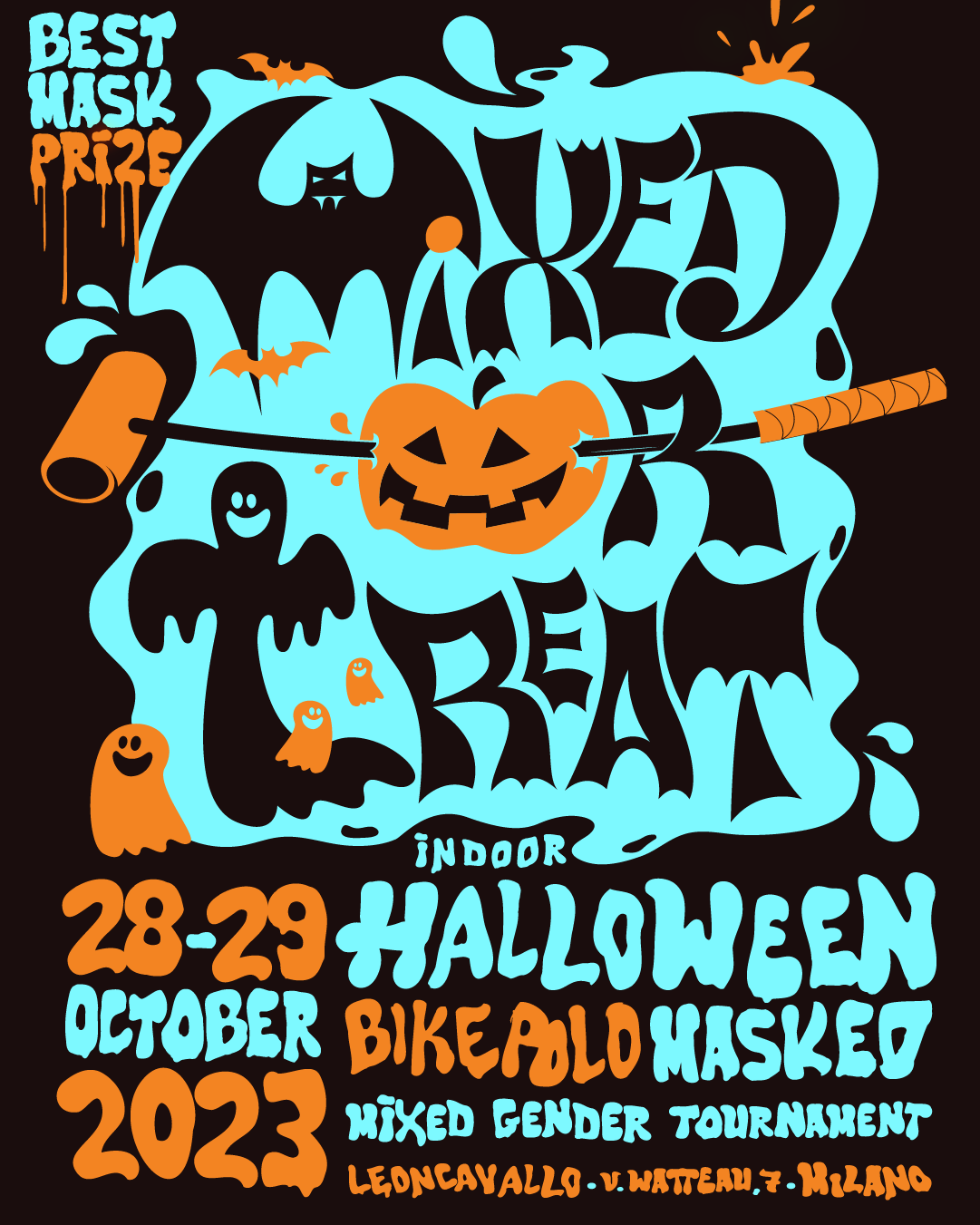 Ciao!
After the great success of last year's tournament, we decided to extend our mixed saga by turning our Halloween classic into a mixed edition!
Milano Bike Polo is pleased to present the eighth edition of "Mixed or Treat", the winter classic, hosted at the famous Leoncavallo Spazio Pubblico Autogestito squat, in Milan.
Because Mixed or Treat is a Halloween happening, being masked is mandatory for each team and, of course, there will also be a "Best Mask" team prize!
Although we have one court, we want to gather as many teams as possible and considering that our indoor court has lights, we can extend the games after sunset.
We usually reward faster team registration, but since we expect a high demand, we'll mix both "first come first served" and lottery, in case we exceed the maximum number of allowed teams.
What: Mixed or Treat 8
When: 28–29 October 2023
Number of teams: 18 max.
Teams format: 3 vs 3, mandatory Mixed teams
Tournament format: 3 round-robin groups + 1 bottom round-robin group + top 16 double elimination (format may vary)
Registration slots: 4 MBP + 8 first come first served + 6 lottery (slots may vary)
No TBAs are allowed in the registration phase. Teams with TBAs will automatically be put on the waiting list
Registration opening: 12:00 (CEST) on Monday 7 August 2023
Registration closing: 24:00 (CEST) on Sunday 10 September 2023
Lottery (possibly via streaming): between Monday 11 and Tuesday 12 September 2023
Registration link: Mixed or Treat 8: registration
Registration fee: €60/team
As usual, Leoncavallo SPA is very welcoming and they are pleased to host as many players as they can in their hospitality rooms, just above the court!
They host all of us for free, but we'll ask for €5/night in advance to all those who want to sleep there. We' collect the money and donate to Leoncavallo to help them to keep the squat alive.
Breakfast, fruits and snacks will be available in the players' area next to the court throughout the day and are included in the registration fee.
Also, Leoncavallo SPA has an open kitchen throughout our stay providing for all your lunches, dinners and of course drinks!
---
TEAM LIST
Spritz Cynar — Top, Riki (Milano), Rita (Bern)
Granchi Reali — Gallo, Livia, Seghez (Milano)
Apocalypsers Friends — Mariano (Milano) Fabio Adriano (Roma), Maira (Brasil/Portugal)
Ematoma — Gipsi, Sonni, Micky (Milano)
Tranquillo — Pyetro (Milano), Lisa (Berlin), Dodi (Munich)
Focaccia — Nathalie (Génève), Hugo, Nans (Caen)
Enorm in form — Levin, Julius (Halle), Quimey (Barcelona)
Top Grazie — Tom (Milano), Juba (Conegliano), Lishka (Berlin)
Eiffel 65 — Punch (Vicenza), Eliska (Prague), Bouchard (Lyon)
I Becchini — Bojo (Milano), Alejandro (Barcelona), Bulle (Bruxelles)
Babar — Elodie (strasbourg), Jason (Montpellier), Morgan (Lyon)
JojoDals — Alphonse, Vincent (Lyon), Jojo (Genève)
Power Puff People — Raphi, Schlotti, Äri (Vienna)
Free Frix — Frix (Hannover), Astrid (Vienna), Mazzetta (Conegliano)
T-Rex — Paolino (Milano), Marika (Cardiff), Pap (Padova)
Queens of the joust age — Cecio, Ilaria, Kappa (Roma)
Vinci Milano — Romi, Loker (Rosario, Argentina), Daniel (Paris)
Background Check — Emilio, Ana (Wien), Nanni (Milano)
Waiting list
Cappuccinos — Andri (Zurich), Michu (Bern), Omayra (Viennna)
T Max — Dédé, Marie, Alban Martins (Lyon)
Ghostbusters — Julia, Bobo (Berlin), Pepi (Rosario)
Readdy Mercury — Jonas, Zappa, Lea (Graz)
Ok Lascaux — Mac fly, Pablo (Montpellier), Anais (Rouen)
Tony Sandwich — Ana (Vienna), Antonio (London), Tony (Berlin)
Cordi's Angels — Dani, Coco, Alban (Lyon)
Wasabi — Paolo (Venezia), Maria (Wien), Fede (Bolzano)
The leopards — Georg, Jaqui (Vienna), Christopher (Linz)
Canceled
La Luce — Clement (Bern), Luce (Montpellier), Adam (London)
Črne vrane — Peter, David (Maribor), TINA (Vienna)
Los Pollos Hermanos — Matias Gonzalez (Milano), Alan Chort (Lyon), Marcia Barrientos (Temuco, Chile)
---
THANKS TO
---
Follow the event to stay updated!